July 9, 2009

Comments:
I have to say that Ginsberg is one of my heroes - I never even considered that way of thinking about Roe....
Posted by: Kat at July 9, 2009 6:11 PM
She sounds very conflicted. Interesting thoughts to ponder here. Obviously, I don't agree with many of her conclusions, but it is always interesting to read the thought processes behind some of this. Especially from someone who actually does seem to think (even if we disagree)... note... this means I don't expect anything interesting to come of a Sotomayor decision ever. That woman is a complete idiot.
Posted by: Elisabeth at July 9, 2009 6:17 PM
Jill,
I think Ginsberg is only talking about social and economic class here. Yes, she is saying that we pro-aborts don't want poor populations having too many unwanted children. But that applies to poor populations in the Bronx just as much as it applies to poor populations in Idaho and Wisconsin.
We all acknowledge that prior to Roe, women of means had access to safe, undocumented abortions. There was and still is an effort to reduce unwanted pregnancies among women of little or no means. The key word here in unwanted.
But this is an irresponsible and inaccurate statement:
Despite that decision, I know eugenics was behind legalizing abortion.
As my professor father would scribble on your exam...."HDYK" (How Do You Know) ?
I find it curious and a bit odd that the anti-aborts have turned to eugenics and slavery history to argue against abortion. So far, those two lines of argument have not had much traction.
Posted by: Dhalgren at July 9, 2009 6:26 PM
So the WHO and the Lancet are totally lying?

The fact that the abortion industry has not been able to raise prices in 35 years, as Mark Crutcher has pointed out, also testifies to its target market - the poor and minorities...
Again, wow. Here in New York City we see a lot of Hasidic Jewish women who terminate due to fetal defects. It's interesting, because in their religion, their purpose in life is to 'produce as many children as God gives them', but they are free to terminate if that fetus is not heathly. The patients who terminate in NYC are actually very reflective of neighborhood demographics.
The service is not advertised. Marketing is for the dermatologists and plastic surgeons.
Making stuff up is not good journalism.
Posted by: Dhalgren at July 9, 2009 6:41 PM
'Frankly I had thought that at the time Roe was decided, there was concern about population growth and particularly growth in populations that we don't want to have too many of.'
Dahlgren, no mention in Ginsburg's response of *unwanted* children of the poor. From her own words, the unwanted are among some unspecified populations.
It seems you are the one inferring unwanted pregnancies of women of small means. HDYK that Ginsberg means what you mean when talking about unwanted persons? Just because its the pro-abort doctrine?
Please tell me why her statement isn't about eugenics and classic social engineering. Be honest. What else could it be about?
Posted by: Mary Ann, Singing Mum at July 9, 2009 6:44 PM
These 'people' leading the push for abortion on demand were not concerned with 'women's rights'. Their concern was and is population control, as to quality as well as quantity.
They use the ploy of 'women's rights' to manipulate both women and men into limiting their family size to 2.2 children or less.
These 'chicken littles' believe world population has already exceeded the ability of the planet to sustain it.
They hate capitalism because the free market keeps finding ways to nullify their false prophecies of doom and gloom.
These elitist want 'control' so they will not be inconvieneced by the peons.
They will use whatever is convienent to advance their humanist agenda. They hate religion, particularly christianity, but they will use 'usefull religious idiots' and fellow travelers if the perceive it will be effective in accomplishing their goals.
The ends will always justify the means if it will deliver the 'end'.
They cannot help themsleves. They are devoid of hope and see only in finite terms and the predictable end of everything scares them witless.
They fein sensitivity and compassion, but their remedies are heartless cruelty.
Take every available opportunity to confront them with reason and logic. They probably will not accept the truth, but perhaps some passesrby will hear and see the folly which they advocate and not be taken in by their clever deceptions.
yor bro ken
Posted by: kbhvac at July 9, 2009 6:52 PM
Ever notice how Ruth Bader resembles Ruth Buzzi of 'Laughin'.
Picture Bader with that hair net on backwards and the know in center of her forehead.

The honorable Ruth Buzzi Bader Ginsburg presiding. Here come da judge, here come da judge.
Order in da court room. Here come da judge.
http://www.youtube.com/watch?v=aaJ-HmfAnJM
enjoy
yor bro ken
Posted by: kbhvac at July 9, 2009 7:04 PM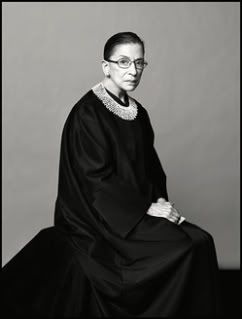 Ruth Bader Ginsburg

Ruth Buzzi
yor bro ken
Posted by: kbhvac at July 9, 2009 7:21 PM
As the oldest child of 6 in a poor family, I am deeply disturbed by this woman in power talking about efforts to contain the number of family members my father and mother would produce. This disgusts me.
Posted by: xalisae at July 9, 2009 7:49 PM
I think she is right on her first point. Wealthy women almost always have and always will have access to safer(as opposed to "back alley" type) abortions. Look at women like Ava Gardner and Grace Kelly. Would it really ever be possible to prevent women with the means to get an abortion?
Posted by: libertarian at July 9, 2009 7:52 PM
I am George Tiller.
Posted by: jasper at July 9, 2009 8:32 PM
Ken you really are too much! lol
God bless your pointy head!
Posted by: angel at July 9, 2009 8:36 PM
Libertarian 7:52PM
Would it really be possible to prevent someone with the financial means from hiring a professional killer? From getting all the drugs they want?

Posted by: Mary at July 9, 2009 8:36 PM
Dhalgren, if Hassidic women are aborting due to fetal defomities, they are not following their religion.
Jewish law allows abortion only when the mother's life will be lost if she continues the pregnancy.
Posted by: Lauren at July 9, 2009 9:12 PM
Mary,
Regarding the hiring of a professional killer, what would stop them is most likely getting caught. John Gotti, Al Capone, and many other wealthy individuals who put out hits on people went to jail. Ava Gardner, Jean Harlow, Joan Crawford, Marilyn Monroe, Lucille Ball etc. all got abortions with ease without any real threat of investigation or prosecution. How would law enforcement have been able to stop them or any other wealthy woman from doing the same?
Posted by: libertarian at July 9, 2009 10:15 PM
Libertarian,
Al Capone went to prison for income tax evasion, not putting hits on people. He "got away with" all the crime and murders he was responsible for.
Sure isn't fair some petty criminal goes to prison is it?
Does the fact the wealthy, like the celebrities you mention, can afford to do something and "get away with it" make it right? I'm sure all these ladies could well have afforded to discreetly hire a professional killer or obtain all the drugs they wanted as well. Elvis Presley and Michael Jackson had no problem getting all the drugs they wanted. Does that mean we all should be able to do the same?
I bet these ladies could also afford the country's best plastic surgeons. Can you?
Live with it. The wealthy and powerful can do what we can't.
Posted by: Mary at July 9, 2009 10:29 PM
Libertarian, 10:15PM
How would law enforcement have stopped these women from having abortions? About as effectively as they could stop Elvis Presley and Michael Jackson from getting drugs. About as effectively as they kept Capone and Gotti from committing crimes.
Posted by: Mary at July 9, 2009 10:33 PM
Libertarian,
Well I guess if a law can not be 100% percent effective at preventing the behvior it has criminalized the law is worthless and should never have been enacted, therefore there should be no laws.
Let every person do what she/he considers right in her/his own understanding.
If two person's views conflict then let the stronger prevail.
Evolution will determine who will survive and who will die.
How will you fare in that 'lawless' environment.
The primary purpose of government is to protect human life and secure liberty.
yor bro ken
Posted by: kbhvac at July 9, 2009 11:05 PM
Dhalgren,
I'm surprised that you're surprised about the abortion-eugenics connection.
You can answer your own question by doing what I did and check out Margaret Sanger's "Woman and the New Race". She makes continuous references to the "native white race", felt that large families were a punishment, and had this constant paranoia about the "unfit". Her words, not mine.
It's been several years since I read her books, but the underlying theme was the same.
I wouldn't call her a bold-faced racist, but she was definitely a bigot.
Posted by: carder at July 10, 2009 12:09 AM
Dhalgren,
Slavery and eugenics wouldn't be mentioned in the abortion debate if they still weren't thriving. Look at how Planned Parenthood chooses the neighborhoods where it places its clinics- almost always minority neighborhoods. After all, it's not the white suburbanites that they don't want to have children. As Margaret Sanger herself said, "MORE children from the fit, less from the unfit." Since PP is almost exclusively about preventing parenthood by whatever means necessary, they are only fufilling their mission by targetting those "minority stocks" Sanger spoke of.
Posted by: Jacqueline at July 10, 2009 5:48 AM

"But this is an irresponsible and inaccurate statement:
Despite that decision, I know eugenics was behind legalizing abortion.
As my professor father would scribble on your exam...."HDYK" (How Do You Know) ?"

Dahlgren,
Phony naivete.
I run across blogs all the time where they lament situations like California, overrun by immigrants, crime, and welfare recipients and discussing eugenics and abortion.
Why do you think so many groups want to push abortion overseas? They think by reducing the number of "non productive" "low IQ" people will benefit them. The same people who pushed eugenics in the 1930's are still pushing it, the Gamble family and the Rockefeller family. The biggest supporters of Planned Parenthood. They were personal friends of Margaret Sanger.
How do we know? Well, how do we know the sun will come up?
Posted by: hippie at July 10, 2009 6:03 AM

Maybe this statement by Ron Weddington, who helped argue Roe v Wade before the SCOTUS will shed some light on what has motivated abortion supporters.
Weddington wrote to then President-elect Bill Clinton in support of RU486 and urged the use of abortion "to eliminate the barely educated, unhealthy and poor segment of our country".
Dhalgren, didn't you ever have some suspicions about all this "concern" for poor and/or minority women not having access to "safe,legl" abortion?
Posted by: Mary at July 10, 2009 7:40 AM
Hi Ken 11:05PM
I remember when cocaine was a drug enjoyed almost exclusively by the wealthy and the celebrities. I heard of few arrests and I'm sure the wealthy could well afford the best lawyers, as well as the most discreet suppliers.
I think its only fair that the poor can now more easily enjoy cocaine as well.
Posted by: Mary at July 10, 2009 7:46 AM
If I understand the analysis of her statement correctly, Ginsburg thought that Roe gave the government the power to mandate termination of "undesirable" babies? Are we sure she is not related to Dr. Mengele?
Ginsburg believe that my nephew should not have been allowed to live because he has down syndrome?
The twist in this is that my nephew's mother thinks all justices should be like Ginsburg.
Posted by: Mark at July 10, 2009 8:05 AM
Funny how she can't conceive of the woman's (and man's for that matter) choice starting with choice to have sex or not...
The more our culture manages to divorce procreation from sex the more depraved we become.
Posted by: rachel at July 10, 2009 8:17 AM
"Jewish law allows abortion only when the mother's life will be lost if she continues the pregnancy." For the Jewish groups that accept this, it is not Biblical. The Christians scriptural support for being anti-abortion comes out of the Old Testament.
Additionally, regarding the "justification" of abortion for risk to the mother's life: it seems that the Jewish people ought to feel deeply hurt and offended by anyone proposing this; One of the twelve tribes of Jacob is Benjamin's tribe. Named after Benjamin, son of Jacob, and son of Rachel. Who died delivering Benjamin. So, if this law were in effect as Rachel approached delivery, and if anyone had a decent guess at the risk of Rachel's death in delivery, Jewish law would have supported the abortion of Benjamin. One-twelfth of Israel.
Posted by: Row1 at July 10, 2009 8:27 AM
Why is anyone as educated as any of the supreme court justices still debating abortion? In this age of technology you can clearly see the unborn baby is HUMAN. CLEARLY. But then, how could educated, intelligent people stand there 150 years ago and sell black people like cattle and deny their humanity. How could europeans sixty-some years ago look the other way while their Jewish neighbors were dragged off by SS to their deaths, and pretend it wasn't happening. Funny how history always repeats itself when you don't learn the lesson the first time.
Posted by: Sydney M at July 10, 2009 8:35 AM
Sydney M
We can also question how a supposedly intelligent SCOTUS could sanction segregation as "constitutional". Where does the Constitution say anything about segregation?
We should stop viewing the SCOTUS as the gods of Mt.Olympus and start viewing them as human beings as prejudiced and guided by their biases as the rest of us mortals.

Posted by: Mary at July 10, 2009 8:55 AM

Speaking of celebrity women and their abortions, sometimes all that glittered was not gold.
Actress Judy Garland was pressured into an abortion she did not want by her husband, mother, and studio head. She was after all a valuable commodity, not a human being. She would remain bitter about his for a long time and during her pregnancy with Liza, would often bitterly comment that she finally had permission to have a baby.
Ironically, Judy's mother had wanted to abort HER when she discovered she was pregnant with a third and unwanted baby. The family doctor refused to assist in any way. What an amazing talent would have been lost.
Also, actress Gloria Swanson maintained that she was pressured into an abortion she didn't want by her studio head as well, and always deeply regretted it.
So maybe all these celebrity women the PC side likes to point to were not exercising the freedom of choice that celebrity and wealth was thought to have brought them.
Posted by: Mary at July 10, 2009 9:43 AM
Wow, Mary, I did NOT know that! It might explain her later problems she had that led to her death. To think we might have had someone ELSE singing "Somewhere Over the Rainbow" in The Wizard of Oz.
Posted by: LizFromNebraska at July 10, 2009 10:20 AM
Hi Liz 10:20am
The woman was an incredible talent yet she had such a tragic life. I think many of her problems had to do with being denied a childhood, having drugs pushed on her since she was a child resulting in a drug addiction she could never overcome, a totally domineering stage mother, and yes, very possibly the abortion of a baby she very much wanted. I saw on TV that she was estranged from her mother until her mother died and it isn't hard to see why.
Oh, and I just love "Over the Rainbow". ONLY Judy could sing that.
Nicole Brown Simpson, the late wife of OJ (who he didn't kill) had six abortions. She had tearfully confided to a friend that she in fact wanted more than two children and loved motherhood, but that OJ's physical, emotional,and verbal abuse made pregnancy a terrifying experience for her.
It certainly shows that the celebrity women PCs love to point to may not have been enjoying any special privilege by having abortions, but rather experiencing deep personal tragedies.
Posted by: Mary at July 10, 2009 11:07 AM
Dhalgren,
I guess it's up to you to prove that Sanger's motivations were nothing more than mere "sympathy" for the poor.
Her writings speak volumes.
Posted by: carder at July 10, 2009 12:43 PM
*swoon*
I wanna be Judge Ginsburg when I grow up. I can't wait to settle in and read this interview.
Mark at 8:05 a.m.: Judge Ginsburg does NOT think that Roe gives the government the right to mandate abortion.
What she saying is this: When Roe came out, she believed that the justices saw the slowing of population growth among certain "undesirable" groups as a positive thing. She believes that view played a part in their decision. As Jill points out, Justice Ginsburg is not endorsing that view, but rather describing what she believed AT THE TIME the Roe justices were thinking. (Remember, she herself was not on the Supreme Court at the time. So she is describing her speculation in 1973 as to what the justices were thinking). Then she goes on to say that, in light of the McRae decision, she no longer believes that the justices were motivated in this way.
Posted by: Prochoicer at July 10, 2009 1:15 PM
Oops that should say: "She believed that view played a part in their decision." However, she no longer believes that the justices were motivated by any sympathy towards eugenics.
Posted by: Prochoicer at July 10, 2009 1:17 PM
PC,
Please refer to my 7:40am post.
At least we know what one of the lawyers arguing the Roe v Wade decision was hoping abortion would accomplish.
Posted by: Mary at July 10, 2009 1:26 PM
Hmm . . . I wonder what the fall-out would be if a conservative Republican male had said this instead of a liberal Democrat woman?
Posted by: Phillymiss at July 10, 2009 2:11 PM
Mary,
My point was about Judge Ginsburg and about what SHE was saying in her recent interview.
In any case, I think the whole eugenics things is a gigantic red herring. For example, I am half-Jewish. Let's say a lot of people were saying, "If we legalize abortion, maybe those horrible Jews won't reproduce so much." I would be, of course, personally offended by that sentiment. But that wouldn't make me less in favor of a woman's right to choose for herself whether to have an abortion or give birth. So why should I care what Mr. Weddington or Margaret Sanger or anyone says?
Posted by: Prochoicer at July 10, 2009 2:33 PM
I would love Prochoiser to comment, being a lawyer.
you seem to espouse a quasi-sacred value to choosing ,,,, as if a woman's choice were explicitly correct ALWAYS. Please answer: why is it right to force such an anti-choice thing like paying taxes?
Posted by: John McDonell at July 10, 2009 4:12 PM
PC 2:33PM
What if people made it plain that eliminating Jews or radically reducing their numbers was the intended result?
What if Jewish people were 12% of the population but accounted for 35% of the abortions?
What if the gov't paid for abortions for Jewish women?
What if the only "concern" for the difficult circumstances of Jewish women was expressed only when they couldn't have abortions?
What if people could call the local gov't subsidized "family planning clinic" and specify their donation was to abort a Jewish baby?
What if out of 17.000 aborted babies found in a dumpster outside a pathology lab 12-15,000 were found to be Jewish?
What if 78% of "family planning" clinics were found in Jewish neighborhoods?
Its one thing to hope people won't reproduce, its another thing to make every effort to see that they don't.
Posted by: Mary at July 10, 2009 4:22 PM
So why should I care what Mr. Weddington or Margaret Sanger or anyone says?
Posted by: Prochoicer at July 10, 2009 2:33 PM
The reason people bring up the eugenics program that helped spawn the abortion movement is to encourage backwards thinking. You may not be particularly bothered by bigotry in regards to abortion in an "ends justifies the means" sort of way (women still get access to the vacuum and forceps - why worry about who helped that happen and why they did that?), but many people have a problem with the idea of government sanctioned killing of certain targeted groups. So, if that bothers them, then it opens the door to many other abortion-related questions: if the unborn are just clusters of cells without value, nonpersons, then how can they be victims of discrimination? Is the high number of Downs Syndrome abortions problematic in terms of eugenics? There is a lot of paradoxical thinking when it comes to one being against eugenics inspired abortion but otherwise for abortion on demand, so it's a way to get people questioning their preconceived notions about abortion. Your opinion seems to be a woman's choice is a woman's choice and no other factors diminish that, so there's probably a lot we could bring up that you wouldn't care about.
Posted by: Janette at July 10, 2009 4:26 PM
PC
You are missing the point and you are going to great lengths to do so.
It is really not about eliminating a certain class of people.
That's just a tactic to play on peoples prejudices and manipulate them into seeing eliminating the 'unwanteds' as a beneficial thing.
The goal is to reduce not only population growth, but to decrease the population itself.
You know, all those people who were created 'less equal' than the 'more equal' humanist elite.
The unwashed peones incovienence the physically and intellectually superior beings. But they do not want to eliminate all the inferiors. They need someone to repair their a/c and mow their lawn and fix their pc.
yor bro ken
Posted by: kbhvac at July 10, 2009 6:02 PM
hi kbhvac at July 10, 2009 6:02 PM
right on, right on!
Posted by: John McDonell at July 11, 2009 9:05 AM
The man President Obama has chosen to be his science czar once advocated a shocking approach to the "population crisis" feared by scientists at the time: namely, compulsory abortions in the U.S. and a "Planetary Regime" with the power to enforce human reproduction restrictions.
"There exists ample authority under which population growth could be regulated," wrote Obama appointee John Holdren, as reported by FrontPage Magazine. "It has been concluded that compulsory population-control laws, even including laws requiring compulsory abortion, could be sustained under the existing Constitution if the population crisis became sufficiently severe to endanger the society."
yor bro ken

Posted by: kbhvac at July 11, 2009 9:13 PM
Ken,
The idea of a population crisis is so ridiculous. How many is too many? Will there be a ten-minute warning before we hit that number? Will the planet self-destruct? Couldn't all the liberals move to the Sahara or something? It would even us out a bit.
Posted by: Janet at July 11, 2009 9:42 PM
Mary at 4:22 goes right to the heart of the stunning hypocrisy behind Justice Ginsburg's opinion. And of course the lib MSM, who would normally be all over something like this that reeks of racism, is silent. SO typical.
Posted by: Jerry at July 11, 2009 11:43 PM