To give us a break from the daily grind…
Elton John and David Furnish surprised the world last Christmas with the birth of their son Zachary via a surrogate.  The couple threw open the doors to their home and their lives for a Barbara Walters special airing on ABC's 20/20 last Friday evening.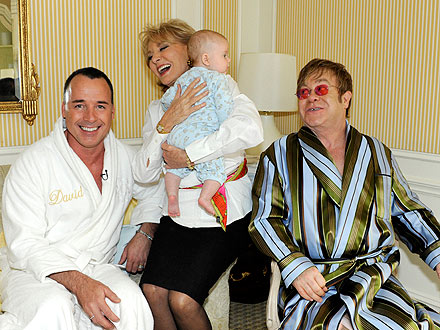 Walters asked which one is the biological father?  Why in the world did they choose Lady Gaga as the baby's godmother?  And why did they take their shirts off in the delivery room?
During the interview, John, 64, revealed that the birth came earlier than expected and that the pair learned the surrogate was in labor while he and Furnish, 48, were out lunching and shopping.   John also says he was the one to cut the umbilical cord, after which he and Furnish both "took our shirts off" and put the baby next to their chests.
Explains Furnish: "They call it skin-to-skin bonding because it's such a traumatic thing for a baby to come into the world."
John finally said they do not know who the biological father is but that it does not matter to either he or Furnish.  Zachary will be told the truth and he can request a DNA test.
After watching the broadcast, I must say I have never seen either of these men so happy and content in their lives.  They are also open to considering another child to add to their family.
Email LauraLoo with your Lunch Break suggestions.
[HT: People Magazine, ABC 20/20; photo via ABC]