UPDATE 6:30p: My apologies to everyone for my misunderstanding of who Mitt was referring to in the video. Of course it was President Obama, not Rick Santorum. Thanks for your feedback!! LL ;)
by LauraLoo
Where else but Illinois do we continue to experience either the most politically corrupt or politically absurd?
Illinois' presidential primary on Monday (before Mitt Romney won on Tuesday) was no exception.  Get a load of Mitt's response to a young woman looking for a certain type of "free stuff".  (Part of me wonders if she was a plant.)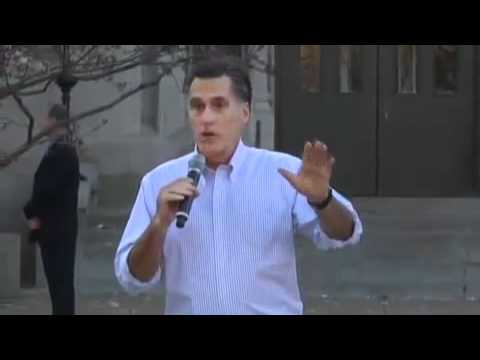 For those who say smart politicians need to fight dirty sometimes, does Romney's response confirm the opinion you held of him all along?  Or were you surprised at how fast he threw Rick Santorum under the bus with that lie?
Email LauraLoo with your Lunch Break suggestions.
[HT: WLS890AM Chicago]
P.S.  As an aside, for those who thought throwing Illinois ex-Gov Rod Blagojevich into the slammer for 12-14 years would deter other politcians from corruption, Democrat state rep Derrek Smith won his primary, in spite of being arrested last week on the federal charge that he accepted a bribe.  And Jesse Jackson Jr. overwhelmingly defeated Debbie Halvorson to defend his 2nd district congressional seat for the 10th time, despite admitting to adultery in 2010 – plus his alleged efforts to trade campaign contributions for a gubernatorial appointment to Obama's vacant U.S. Senate seat in 2008.
Mar.21, 2012 12:00 pm
|
Video of the day
|